Description
WONDER WAFERS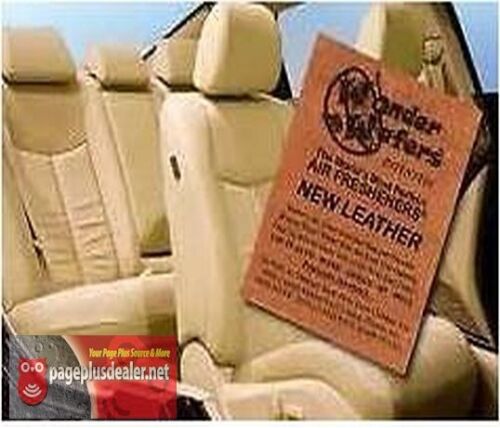 new leather  SCENT
Fragrance lasts up to 2 weeks
 approximately. 
 Original product of USA
15- New Leather Scent Wafers for Only
 6.85
Clean and fresh smell for you automobile's interior.
Free Shipping too!!
 No more spills of freshener's spray, no more stains, easy
 removal.
What ever you wonder, leave it to Wonder Wafers.
Wonder Wafers, as an air deodorizer are
 so unique that they are patented.
 These Wonder Wafers are popular among transport
 companies, hotels, hypermarkets, car washes and many
 more.
It can be put in vehicles, hotel rooms, restaurants, garbage
 cans, gym lockers, boats, bathrooms, kitchens or
 practically anywhere at only 2″ x 2.5″.
Everyone will Wonder, what smells so GOOD!
15, fresh, wafers only 6.50! Fresh smell, Non-Toxic!
Feel Free to send us a note during Paypal  
checkout (make sure you press save) it is right
where you check the correct shipping address,
during paypal checkout – 
 to Order a Mix of whichever scent you like.
 If first choice is not in stock, we will fill the
 rest with this auctions scent!!!
15 wafers for Only 6.85!! 
PLEASE NOTE WAFERS ARE  INDIVIDUALLY WRAPPED. 

Immediate Payment is required after the Winning Bid
Shipping Policy
Shipping within the 48 Contiguou

s

No I

nternational Shipping

No Delivery to Alaska or Hawaii

Paypal Confirmed Addresses Only
Please message us with any questions.
Bulk orders by the dozen may be discounted.
 Sent First Class mail, so be patient.
*Please note we are not responsible for where you place these or allergies. Do not sit on top of plastic or material that will stain!!!!
New Leather